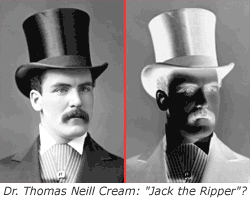 A few questions you'll find answered on the McGill University Archives website:
Did a McGill student accidentally kill Harry Houdini?
Did 'Jack the Ripper' attend McGill University?
Am I a descendent of James McGill?
These questions are all answered at the website (
here
) on the very short list of FAQs. It makes for quite a change from the usual list of questions archives staff they think they might have to answer (ie how much does it cost to make a photocopy?). But maybe they really were/are frequently asked!